Send me alerts every days
Location: 
Bangalore, KA, IN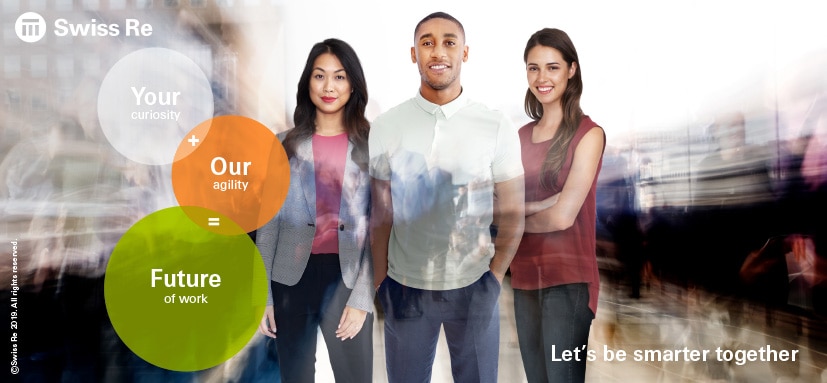 Head CMAS Bangalore
Bangalore
Corporate Title: Vice President
Division: BPP-Group Underwriting (50001535)
Department: BPPD-Underwriting Strategy (50001506)
Recruiter: Sowmya Bhat
Hiring Manager: Martin Nigsch

​
About the Role
Do you have strong personal leadership and project management skills? Are you excited by the prospect of applying state of the art technologies to create tangible commercial value? Are you a person hungry for personal and professional growth?
If yes, we would love to get to know you. In the role as Head Costing Methods & GEO Team, you will lead a newly merged team that consists of the current GEO Services team and the current CMAS Bangalore team. You will be responsible for a team of 8. The team leads and is involved in projects in close cooperation with CorSo, Reinsurance and Group functions. In addition to that, your team oversees the work of external IT developers in 1-2 projects. Key projects are the provision of geographical information to Swiss Re's businesses and clients; information that is critical for correctly assessing and costing risks. You will be responsible for running the parameter setting process for P&C costing, across CorSo and Reinsurance, including the responsibility for the infrastructure delivering the parameters (RDS+). In addition to all of the above, your team is working on state of the art machine learning projects. You will inspire commitment, attract and nurture geo talent, promote teamwork and deliver results. You are naturally capable of reducing complexity and to communicate complex, interconnected issues in an easily understandable manner.
Swiss Re embraces diversity and equal opportunity. We are committed to building an inclusive team that represents a variety of backgrounds, perspectives, and skills.
We collaborate in a flexible working environment, providing all of our employees with a compelling degree of autonomy to decide how, when and where we work most effectively.
About the Team
We are the Costing Methods and Analytical Services (CMAS) team within Underwriting Strategy in Group Underwriting.
We have two main operational areas of responsibility: maintaining the Economic Valuation Model (EVM) methodology and infrastructure for P&C as well as centrally providing Geo-related services. The team regularly collaborates with the underwriting functions across the company, Finance and Risk Management. In particular, we are responsible for:
Delivering and further developing GeoPortal and CatNet
Performing underwriting related projects with strategic implications for the Group
Reviewing costing parameters developed decentralized to ensure quality and adequacy
Contributing to R&D with the goal to improve Swiss Re's risk selection, building unrivaled value generating services, or positioning Swiss Re as thought leader
About You
Relevant university degree, strong quantitative background preferred (e.g. computer science, engineering, geoinformatics)
At least five years of relevant work experience, including a proven team leadership track record
Strong project management skills, leadership experience with and without formal authority
Strong analytical skills and problem solving skills. Ability to focus on details without losing track of the bigger picture
Hands-on experience with ESRI and open source GIS tools, Python, SQL and other programming languages, as well as processing of large geographical datasets is a plus
You have proven communication skills. In particular, you are capable of hearing complexity and quickly reducing it to its fair value
Strong stakeholder management: you naturally invest in personal relationships and bring individuals together as needed, across countries and functions
You navigate ambiguity in a constantly changing environment with ease. You have the strength of character to stick to key principles and maintain integrity in challenging moments
Ability to express yourself clearly in one-on-one conversations and when speaking in front of groups